Content marketing is at the heart of all that marketing web success. Isn't it too inconspicuous for everyone to grasp that content is worth focusing as an element in the marketing mix – more so, an important building block to developing businesses?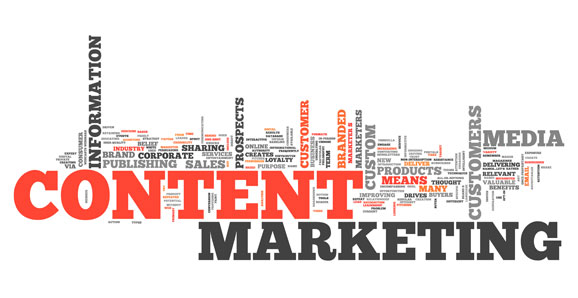 People have missed out the crux on their business drive, thinking that content is just an afterthought, and that it is only a fraction of the whole success provided by the over assessment on website design and structure, but it is not. Yes, there may be certain challenges or it may come with a caveat, but have not these been your already- present components into keeping you moving forward, and that you have, from now, mastered of dealing with them? Remember that when you own an online business, expect to play against a hundreds of them, or more. Nothing ever comes to one that is worth having, except as a result of hard work. So do content marketing the right way!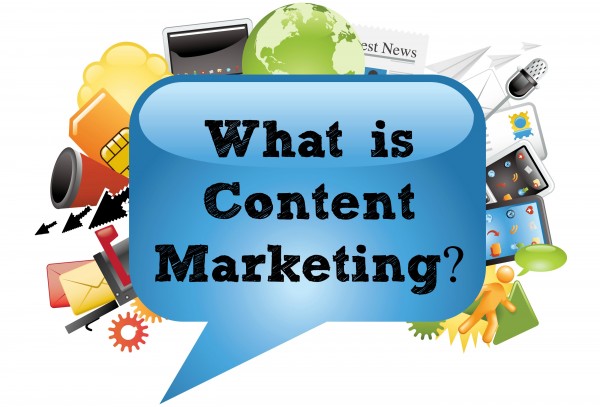 According to collective research, it is an umbrella term encompassing all marketing formats that involve the process of creation and sharing of relevant and valuable free content for the purpose of engaging current and potential consumer bases, which is to attract and convert prospects into customers, and customers into repeat buyers.
The definition is too bare, much of like saying that essentially, content marketing is using content to market your product. The underlying question is, what is content marketing really, and what to do with the latest tools in the marketing arsenal?
Basically, content marketing is the art of communicating with your customers and prospects without direct selling. It is a non-interruption marketing, to say, because instead of proposing your products or services, you are distributing information that makes your buyers more intelligent. The essence of this strategy is the principle that if we, as businesses, deliver reliable, and constant information, they will ultimately reward us with their business and loyalty, which they will, eventually if all has gone effective. Content marketing is being used by some of the greatest marketing organizations in the world, including P&G, Microsoft, Cisco Systems, etc. It's also done, and expanded by small businesses, and singular shops around the globe.

Advantages
1. Marketing is impossible without content. Devoid of relevance and value, what do you get? Informational garbage from companies trying to sell you their products and services. Companies create content and distribute information all the time, it's just that most of the time, they send us extraneous materials, and most often, not significantly beneficial. The difference of content marketing to that scheme is that it provides you with quality content which makes a person to stop, read, think and convert his thoughts, behave accordingly, and act something about it. Yes, that is the beauty of content marketing.
According to Roper Public Affairs, 80% of business decision makers prefer to get company information in a series of articles versus advertisements. 70% say content marketing makes them feel much more united to the sponsoring company, while 60% say that company content helps them make better product decisions.
Here's a survey conducted by Content Marketing Institute (CMI) and MarketingProfs, in which content marketing remains a top priority for marketers in 2012.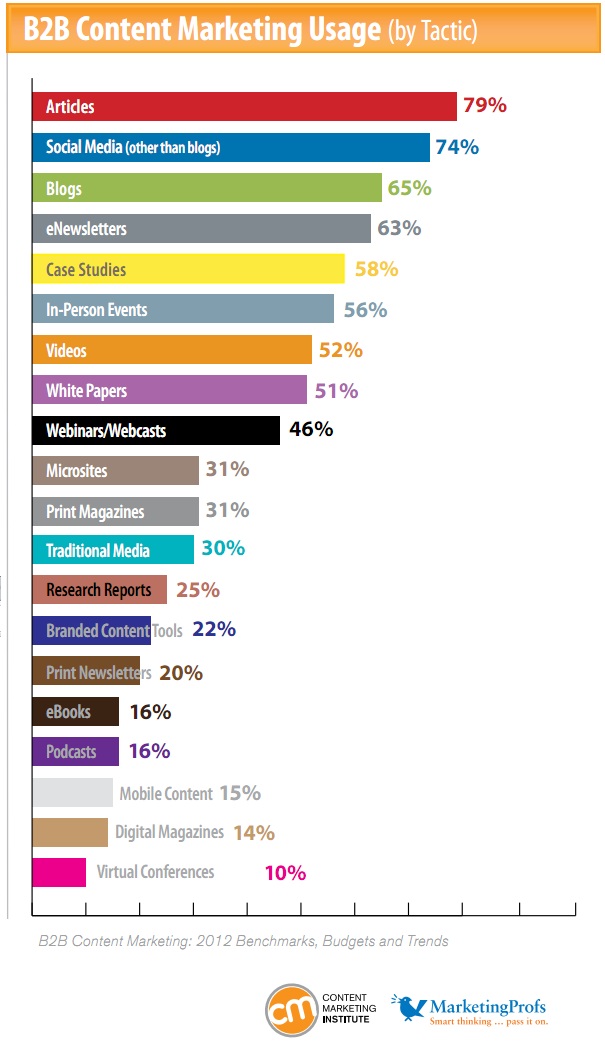 2. Traffic generation. Links are the byproduct of getting your great content exposure.  Content that generates a lot of links also generates a healthy volume of traffic and page views. Major social sharing websites are great sources of traffic and exposure. These sites have long been hubs to seed great content, where the best of the best rises to the top and can receive massive exposure. Sites like Pinterest, Reddit, and Stumbleupon can send some of the largest volumes, but also represent unique communities.

3. Content marketing helps you make personal connections – influence and authority building.Custom content sells more than a pile of advertisements. Everyday, we're enclosed with content in the form of words, and of forms of media. Content marketing helps you catch the attention of potential customers by providing them with materials tailored to their interests. And when these interests have been cultivated, you will be able to understand that content is not just a great networking strategy to generating traffic for increased visibility, but also in building higher trust levels, and customer loyalty.
 Conclusion: Content marketing closes the deal.
Content is important for visibility, and building a connection with your prospects, but there's another way you could benefit, and that is by: closing the deal. As you can see, the immediate and long-term values of content marketing campaigns come from a variety of sources other than links. Pay close attention to the metrics for:
Site traffic
Quality content good turn; and
Audience growth.
As you measure these results, you'll notice most of these benefits are interconnected. Many times success in one area spawns success in the next.